"Naim, amacam?" Is.
"Aku tak kisah."
"Aben?"
"Aku tak kisah."
"Topui?"
"Dah berapa lama aku kenal dengan hang. Berapa kali dah buat kerja gila. Lagi mau tanya."
"Aki?"
"Ciss. They do it for real. Aku kena telefon mak aku dulu."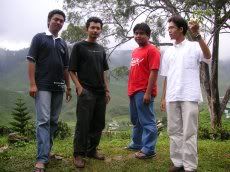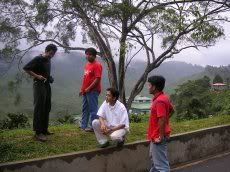 On the way back to our beloved hometown, we had a pit stop at Cameron Highland. Having dinner and taking pictures. No strawberry plucking, no tea and butterflies farm just a plate of nasi goreng pattaya, sky juice and we were off, down to Simpang Pulai back to SP. Slumber vacation :) And not to mention drooling-hot-fried bananas. Aki belanja. Pisang apa depa guna tatau la.
So we headed for the North, had another pit stop at Bkt Gantang RnR for Jamak Takkhir and 'a cup of coffee'. Suprisingly we bumped into someone, Lutfi and his family. Have a little chit-chat for a while before we continue the exhausting,tiring but exciting journey.