It's a bit late, I know that most of you guys already know the existance of this website. But for those who are searching for Islamic lectures, you can get them
here
. Happy New Year 2006. May Allah grant us with a promising year ahead. May Allah help us to go through the unlikely disturbances and tribulations these coming days. And may Allah strengthen our faith and 'amal.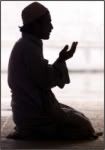 Taken from the motivation card that I bought from souvenir shop-
"See each morning as if it were the morning of the first day;
Treasure each day as if it were the evening of the very last day."